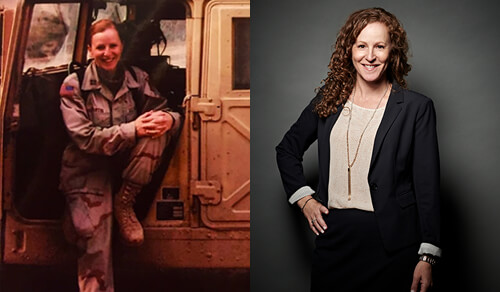 The AD Way #12: Honor Commitments
October 12, 2020
Internal company message from AD's Vice President of Marketing & Communications Stacey Hajdak shared on October 12, offering associates her perspective on this week's fundamental, honor commitments.
HONOR COMMITMENTS.
Do what you say you're going to do, when you say you're going to do it. There is no better way to build trust. This includes being on time for all phone calls, appointments, meetings, and promises. If a commitment can't be fulfilled, speak up and agree on a new deliverable to be honored.
Good morning!
So many associates I've worked with at AD over the past year have taught me positive lessons on honoring commitments. I've seen an array of examples of how well you've really internalized this one.
So as I put my fingers on the keyboard, I wondered how I could offer any unique perspective on this week's fundamental. Then it occured to me. There's no better way to illustrate #12 then to get all Army with you! My experience serving is where I draw inspiration for so many things.
In the Army, we live by the standards of The Soldier's Creed:
I am an American Soldier.
I am a Warrior and a member of a team.
I serve the people of the United States, and live the Army Values.
I will always place the mission first.
I will never accept defeat.
I will never quit.
I will never leave a fallen comrade.
I am disciplined, physically and mentally tough, trained and proficient in my warrior tasks and drills.
I always maintain my arms, my equipment and myself.
I am an expert and I am a professional.
I stand ready to deploy, engage, and destroy the enemies of the United States of America, in close combat.
I am a guardian of freedom and the American way of life.
I am an American Soldier.
These aren't easy commitments, are they? There are some pretty strong words in there. Words people don't use very often. In some situations, living up to this creed pushes human limits. These words demand sacrifice, courage and discipline. All service members take an oath to defend our Constitution. In addition, Army soldiers make a commitment through this creed.
Reviewing these words helped me realize something poignant about this week's fundamental: Honoring commitments is a two-way street.
The commitments a soldier, sailor, airman or Marine makes for our country are met with a commitment the country makes to him or her.
An extreme example of this lasting commitment is the Defense Prisoner of War/Missing in Action (POW/MIA) Accounting Agency, charged with going to the farthest extremes to account for and recover American personnel remaining captive or missing. Part of the reason soldiers and their families are able to dedicate themselves to fully serving, some for decades, even with the risk of making the ultimate sacrifice, is because if the worst happens, they know the country has their back and will do everything in its power to bring them home. Given, it's certainly not the only reason, but it's an important one.
How can this idea of two-way commitments relate to our work together from a practical standpoint? This military example may seem extreme, but I believe there's a lot of harmony with our AD fundamentals in this regard.
Asking people who know requires the person being asked to be humble and not judgmental of whoever's asking for help.
In order to own it and deliver legendary service, there must be trust that we have each other's backs as a team and can be relied upon for support and honesty.
And if we're shifting to align with change, or even being the impetus of that change, then those affected must be intentional about learning new skills and seeking feedback – in other words, work on yourself - that enables the necessary agility.
Each year since 2001 in the U.S., we recognize and remember Patriot Day, September 11. It's been on my mind even more this year. Maybe it's the pandemic? Things seem heavier in 2020. Deeper.
I didn't realize this summer that selecting this fundamental would help me see something new and I feel lucky to be able to share the reflection with you. Of course, some of you may have seen it for a long time and I may be catching up!?
Are there other fundamentals that involve a two-way street, as you view it?
I hope you, your families & loved ones are all doing well! Have a great week, everyone!
Photo Details: Stacey serving in the Army as a military police company commander in Baghdad, Iraq in 2003 and now, as AD's VP of Marketing & Communications.