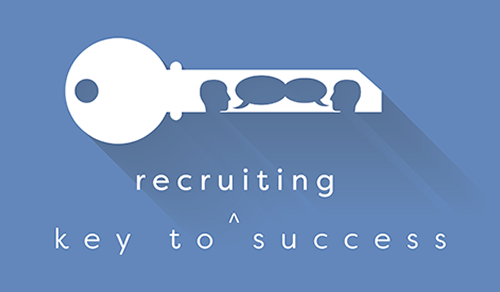 The Key to Recruitment Success: The #1 thing you can do to win over candidates
August 3, 2021
Finding the right person for your company's job openings is usually a challenging process. There are many variables that factor into the journey of hiring the best candidate, and sometimes the entire task can feel overwhelming. As the recruitment process gets more competitive and top talent has many choices, candidate engagement is becoming the number one key factor to recruitment success.
What Not To Do
All too often, companies are focused on seeing additional candidates in their recruitment process (and rightfully so), but you can't be short sighted when the perfect candidate is sitting right across the table from you. For example, if a candidate checks off all your requirements but is slightly over your salary range, do you wait for someone less expensive to appear or do you get creative to make it work with the top candidate? Do you withhold from the candidate they are under serious consideration to keep them engaged? Do you go quiet while waiting for someone else to impress you even more? Silence or no decision are both a red flag to candidates.
What Should You Do?
What happens post interview is sometimes the key to recruitment success. It is very important to make sure all candidates know exactly where they stand in the selection process. Consistent communication including interview feedback, next steps, and timing are necessary to keep candidates engaged. The longer your recruitment process takes, the more opportunities arise for candidates to interview with your competitors.
Simple things like phone calls or emails to communicate status are necessary. Even a simple text every few days will help. You want to keep the candidate engaged and thinking about your company. The length of your selection process is an indicator of company culture and your process is on display for the candidates to see. The way you communicate and keep the candidate informed will sometimes either create a feeling that the candidate is wanted or is not in the mix. Candidates will quickly move on to other opportunities if there is a lack of communication.
The Problem of Ghosting
Ghosting, when a person disappears from a relationship with no notice, is a modern name for an old problem. In the HR/recruiting world ghosting has always been an issue. Sometimes candidates fail to respond to a company or (more commonly) a business fails to respond to their candidates (an ever-increasing problem).
According to a LinkedIn study done earlier this year, 77% of job seekers reported being ghosted by a company. Furthermore, only 27% of employers were able to say they had not ghosted a job seeker in the last year! This is not a one-sided issue, however. Almost half of employers reported that they believed ghosting by candidates has increased in the last year.
According to the LinkedIn study, 48% of candidates say they ghosted a prospective employer by ignoring communications from the employer. Furthermore, 46% did not show up for an interview and 7% did not show up for their first day on the job!
Why is it happening?
So why are both sides reporting an increase in ghosting? Candidates reported several reasons for why they ghosted a prospective employer which include, getting another offer, unhappy with the offered salary, or they decided the job wasn't a good fit.
Both sides do agree that the pandemic has played a part. The LinkedIn study concluded that it might simply be a case of giving the phenomenon a name (ghosting) that has raised the level of awareness for the topic.
Conclusion
As the problem of ghosting becomes more "normal", there is a need for quick, decisive internal communication amongst the interview team. This critical communication regarding candidate status should then be followed up with quick communication to the candidate. All too often this simple key step for recruiting success is not executed, and a top talent walks out the door - never to be seen again! Doing these things right/well sends the candidate a positive message about your company culture and the way you operate and becomes another way for you to win the ongoing war for talent.
About the author: John Salvadore is the founder and Managing partner of GRN Coastal, a full service recruitment company. You can reach John at Jsalvadore@grncoastal.com or visit their website at www.grncoastalrecruiters.com.