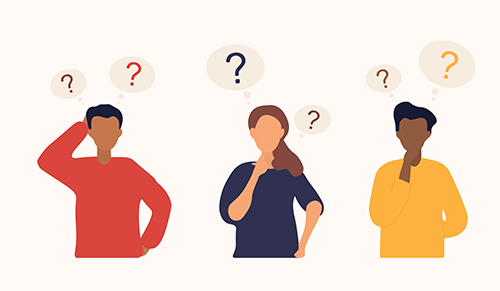 Top 10 things job seekers are looking for
April 7, 2021
Finding the right person for your open job positions is key to keeping your business functioning. However, it can sometimes seem mystifying to figure out what job seekers are looking for. It can be difficult to know what is most important to candidates. Do you know what you need to do to attract top talent and then actually hire them?
The past year has redefined the job search market in many ways. As a recruitment firm, we find candidates to fill all levels of job openings – from executive level to mid-level and even some entry-level positions. We meet and speak with many types of candidates which allows us a peek into the job seeker's mind. We hear firsthand what their desires and expectations are.
In 2021, we are seeing the emergence of a new type of candidate, one now accustomed to a hybrid workforce. They have become accustomed to working from home and now expect it to some degree. The pandemic has changed and fine-tuned the things that are most important to job seekers. In this blog post, we will walk you through the top ten things that potential employees are looking for.
Top 10 things job seekers are looking for: inside the candidate's mind
1. Company brand: Job candidates want to know that the company they will be working for has been responsible with the health and safety of their current employees. They want to know that they would be working for a company that values their people. Specifically, how have they handled COVID? Has the company gotten any positive or negative press during the past year? How have they treated their employees? Have they taken the proper safety measures during COVID to protect their people? These questions really matter to your potential employees and being able to show that your company has handled the pandemic responsibly will ease a candidate's mind on the issue.
2. Company financials: After the past year job seekers are concerned with the financial stability of a company. They want to know how the company fared during COVID. Did they layoff employees? For how long? Did they cut hours? Did the company go through a restructuring? Candidates want stability and job security. They want to know that they will still have a job if anything similar happens again.
3. Leadership and culture: Top candidates are always interested in the leadership and culture of a company. They want to know if executives are in touch with their people and if the leadership is visible and "leading". Foremost on potential employees' minds is how communication has been during the pandemic. They want to know if the company's direction has been clearly communicated and if there have been any changes in leadership or company structure (and why that has happened).
4. Guaranteed money: As we have discussed in our blog on how sales compensation models are changing, job seekers want more guaranteed money, and will take less commission/bonus percentage in exchange. This is hugely important with sales candidates because so many have been burned by a weak year in 2020. Top candidates no longer want to rely so heavily on the bonus and commission money that can just disappear due to something like the pandemic.
5. Sign-on bonus: Market leaders who survived 2020 are aggressively restocking top talent and many of those candidates are expecting "cash now". This is a trend that we have seen developing more in 2021 than we have seen in the past. The competition to recruit the best candidates is fierce and a sign-on bonus is becoming more frequently expected.
6. Better benefits and associated costs: Benefits have always been an important consideration for job seekers and provide a significant value-add to job offers. Candidates are paying much more attention to benefit coverages and their associated costs. They are focused on PTO and vacation days, how time off is tracked, how flexible their manager is on working hours. Tangible items like 401K, profit sharing, company car versus car allowance are their most valuable considerations. Providing fair and well-rounded benefits can be the difference between a "yes" or a "no" from your chosen candidate.
7. Upward mobility: Job seekers have always cared about future opportunities with the company they are joining. They want to know there is a clear career path, how good performance will provide them a chance at promotion, and how the company structure impacts their chances to grow with the company.
8. Remote work: In 2020 employees all over the world proved that working from home was both viable and productive. Job seekers want to hang onto their new freedom and flexibility. Having some options for continued remote work is very much an expectation. In the last year, candidates have had to make adjustments with daycare, carpools, and other daily logistics. They are worried they may lose that flexibility with their family situations if they make a move. Work from home and a hybrid workforce is here to stay!
9. Continued education: Both your current and future employees want the opportunity for training, mentoring, coaching, and other educational opportunities. They want to know if there are avenues available to keep learning. Top performers, regardless of their level, always want to get better and they thrive on learning. Employers should be ready to offer job seekers plenty of options for furthering their skill sets and learning new ones.
10. Work/life balance: Companies that attract top talent, do it by defining the work environment and showing that they care about employees and their quality of life. Job seekers today have experienced much more family time over the past year, and many loved that experience. Top candidates have a new routine and they have put a new value on off-work hours. They have proven that they can be productive and successful while working from home. Be ready for pushback on the idea of spending five days a week in the office and be prepared to have some flexibility with schedules and remote work options.
These top ten job seeker expectations are real. We are hearing some of this from nearly every candidate we speak to. Companies need to adjust their philosophy towards recruitment and be prepared for a much more challenging recruiting engagement process. There will be hurdles to get past to satisfy job seeker's expectations. However, to win the battle for top talent you'll need to "out recruit" your competition and meet the expectations of job seekers.
If you need help finding the best person for your open positions, please contact us. We can help!
About the author: John Salvadore is the founder and Managing partner of GRN Coastal, a full service recruitment company. You can reach John at Jsalvadore@grncoastal.com or visit their website at www.grncoastalrecruiters.com.