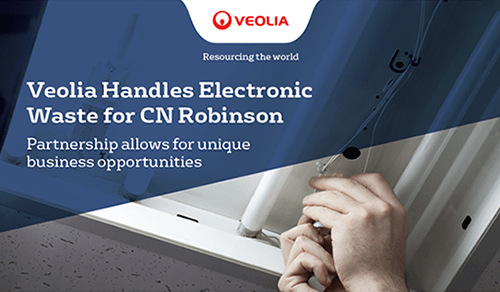 Veolia Handles Electronic Waste for CN Robinson
April 16, 2020
Partnership allows for unique business opportunities
Pete Gray is Vice President at CN Robinson Lighting Supply Company, Inc., a company that offers its customers commercial lighting solutions that range from completely replacing all of their lighting to exclusively providing recycling services. They often help companies upgrade their systems to green lighting standards, and Veolia assists them with the lighting recycling process.
Challenge: To increase their business in a very competitive market
Solution: Partner with Veolia, a recycling leader, to offer a turnkey program to building owners, property managers, and hotels
Outcome: A successful partnership with Veolia for the past twenty years that has helped both companies grow their businesses
Our business
"Most companies like us primarily sell lamps and fixtures and may offer recycling later. At CN Robinson we'll either lead with our recycling services or pair the recycling service with a contract for the lighting. If a customer already has a lighting contract with a different distributor, then we offer them recycling services. This helps us attract new customers."
Our clients
"One of our clients is a large school system outside of Washington, D.C. We have completed some very large fluorescent changeouts with them, and we also handle the bulk lamp recycling on those projects."
Veolia became our one stop shop
"We have been doing business with Veolia for many years now. When we first heard about recycling as a possible revenue stream, we had to jump on it because of what we do on the supply side of things. When we started lamp recycling, we began with a different supplier. Then, Veolia came along and offered a lot more services and options, so we felt they would be a better match for us in the long haul."
Veolia helps us get new business
"We work very well with Joe, our Veolia sales rep, and his manager. They have actually given us new leads when they see opportunities in our territory, and Veolia provides names of lamp distributors to work with to their customers."
Veolia is flexible with our schedule
"Veolia is fantastic when it comes to scheduling and following through on pickups. We really value their accuracy. Our companies work very well together. Recently, we changed our director of operations, and when the new person came in, everything was seamless. No hiccups, and he picked up where his predecessor left off. They know how we operate and anticipate our needs."
We always recommend Veolia
"Bottom line, Veolia knows what they are doing. They have plenty of insurance backing them up, and they are very competitive. It's easy to work with them, and we have recommended Veolia to a lot of our industry peers. We always spread the word that Veolia does a fantastic job. Additionally, Veolia is now a member of the lighting association we are part of, Affiliated Distributors. That is an added bonus."
CLICK HERE to view and download this case study as a PDF.