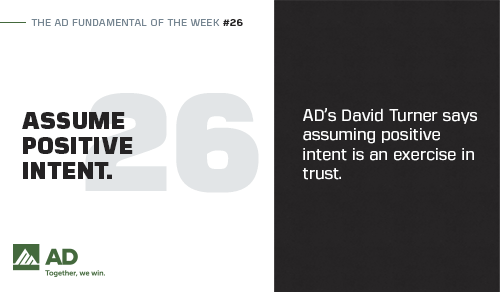 When someone falls short of your expectations, is the issue in your head? The answer is in that someone's heart.
September 13, 2021
#26: ASSUME POSITIVE INTENT.
Work from the assumption that people are good, fair, and honest, and that the intent behind their actions is positive. Set aside your own judgements and preconceived notions. Mistakes will be made – give people the benefit of the doubt. Be forgiving!
Good morning AD!
We pride ourselves on being a company of doers and, so, many of our fundamentals focus on ways to make all of that 'doing' more effective. This week's fundamental is refreshing then because it isn't yet another thing we have to remember when taking an action. Rather, it is something to consider when we find ourselves on the other end as the recipient of an action, especially one done differently, done slowly, or, perhaps, not done at all.
Did the doer slice the data that way because he doesn't care to #6 MAKE QUALITY PERSONAL or was there a shared responsibility to #9 GET CLEAR ON EXPECTATIONS?
Did the doer reply to that email a little slower than expected because she doesn't think it's important to #3 BE A FANATIC ABOUT RESPONSE TIME or did she take that extra hour to #27 ASK PEOPLE WHO KNOW?
Did the doer fail to close an expected deal because he doesn't want to #17 DELIVER RESULTS or are occasional misses par for the course even for those who #8 BRING IT EVERY DAY?
Assuming positive intent is all about trust. It is about trusting that the doer is doing what she thinks is right and it is about creating an environment where the doer trusts that the recipient will be reasonable in return. In each of the three examples above, there was a definite violation of the recipient's expectations, but observing this fundamental would help the recipient differentiate between the intention of the doer and any feelings of disappointment or frustration in the outcome of the action. Often the issue is more in the head of the recipient than in the heart of the doer.
This is not to say that we should excuse carelessness or even that repeated violations shouldn't temper this assumption of positive intent in specific cases or for specific people, but this concept that people generally mean well and are embracing action, however imperfect, over cynicism and inaction is at the root of this fundamental. Teddy Roosevelt put it well in this oft-quoted passage from his Citizenship in a Republic speech:
"It is not the critic who counts; not the man who points out how the strong man stumbles, or where the doer of deeds could have done them better. The credit belongs to the man who is actually in the arena, whose face is marred by dust and sweat and blood; who strives valiantly; who errs, who comes short again and again, because there is no effort without error and shortcoming; but who does actually strive to do the deeds; who knows great enthusiasms, the great devotions; who spends himself in a worthy cause; who at the best knows in the end the triumph of high achievement, and who at the worst, if he fails, at least fails while daring greatly, so that his place shall never be with those cold and timid souls who neither know victory nor defeat."
Have a great week!
David Turner
Vice President, Finance