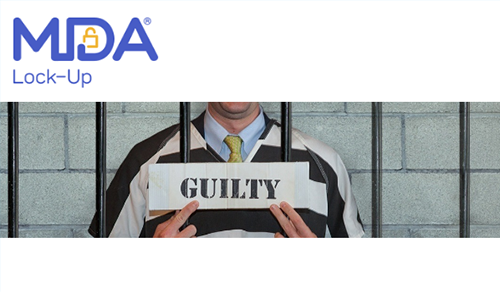 AD Building Materials Member Affected with Muscular Dystrophy Nominated to the MDA Lock-up!
January 24, 2017
The AD Building Materials Team has learned that one of our members was anonymously nominated for the Muscular Dystrophy Association (MDA) Lock-up. The MDA Lock-up is a fund raising event that raises money for research for those affected by muscular dystrophy, ALS and related life-threatening diseases that limit muscle strength and mobility. We are very disheartened to hear that Matt Scott, Vice President of Construction Supply Co. has an undiagnosed form of muscular dystrophy. Matt's symptoms appear without warning and will hold him hostage for weeks at a time, as the muscles in his body contract to such a level of pain it affects the nervous system causing him to pass out and/or sometimes contorts his body with severe restriction of any voluntary straightening of the muscles. Additionally, while these symptoms are active his kidneys also take a hit from the high level of waste protein passing through them, which is usually only reserved for Olympic marathon runners or extreme autoimmune diseases. Matt keeps his sense of humor as he mentions that he is definitely not an Olympic marathon runner and he does not have an autoimmune disease. It is also unfortunate to hear that Matt has a few friends and customers, one being another member of the AD Building Materials group, suffering with different types of muscular dystrophy. While Matt continues to suffer these horrible occurrences, he is honored to take on the challenge of the MDA Lock-up, to support all those that suffer from this life altering condition.
On Thursday, January 26th Matt will be escorted from his office by a police car to the local Texas Road House restaurant where he will have to raise $2,000 bail to get released. To help in Matt's efforts to support the Muscular Dystrophy Association, AD Building Materials has posted $500 of bail for Matt. If you would like to help Matt in any amount please click here to donate on-line.
Our thoughts are with Matt and all those suffering from this terrible condition; and we hope for a breakthrough in research for a cure for muscular dystrophy.